Event Partners
ACG is a leading Track and Trace solution provider for serialization of cartons and bottles at primary, secondary, tertiary and quaternary levels of packaging for regulated market. Our advanced solutions support majority of the product configuration under serialization mandate. The variety of the product line can cater to all available line level configurations in pharmaceutical plants. We work closely with pharmaceutical companies as a global Track and Trace implementation partner to implement the serialization solution across the globe.
ACG supports in complete project planning, implementation and improvement to cater to the process requirements. ACG Groups huge pharmaceutical industry experience and pharma machines expertise help us to implement the Track and Trace solution smoothly.
ACG machines and application integration capabilities enable them to cater to serialization requirement with strong service support for implementation. Our robust solution can tackle implementation and interoperability challenges faced at level 0 all the way to level 5 in End-To-End Supply Chain
Our vision has always been to create an impact on the european market that is entirely unparallel in recent years. That vision is now a reality. Say hello to the future.
Original4Sure is India's Pioneer Brand Protection & Track and Trace Company. A VC funded Technology Start-up empowering brands like ITC, PepsiCo, DCM Shriram, Campus Shoes with Downstream Supply Chain Visibility. Original4Sure helps companies with Smart & Secure Unique ID (UID) based solutions, for end-to-end product traceability and engaging with their consumers and retailers. Over past 3 years, we've been able to achieve:
Serialization of over a billion products with over 25 companies
Assure more than 20% revenues for companies, earlier lost due to Counterfeiting
Build direct engagement channel with millions of consumers
Gain 2X Visibility into Secondary and Tertiary Sales
SecureMARC was founded in the year 2001 by Major Shashank Taggarsi with the objective to provide a complete anti-counterfeiting solution to its clients.
Equipped with seventeen years of in-depth knowledge of the ground realities of the Indian market as well as current modus operandi of counterfeiters and other unscrupulous elements who infringe trademarks and copyrights, SecureMARC has successfully assisted many global and Indian companies to address these problems and stay a step ahead.
SecureMARC has vast amount of experience in anti-counterfeiting techniques across industries such as Pharmaceuticals, Fast Moving Consumer Goods, Electrical hardware, Computer Hardware & Peripherals and Machine Tools to name a few. SecureMARC provides specialized solutions to these leading corporate clients by providing them with tailor made IPR protection programs for their specific needs.
SecureMARC focuses on its core business with total commitment, keeping in mind client satisfaction and maintains the highest level of client confidentiality and ethical practices. These values and practices are SecureMARC's strength and helps stand out from others.
SecureMARC was founded by Major Shashank Taggarsi, an ex-Indian Army officer. He has vast experience in informer handling and anti-counterfeiting activity across India and has carried out undercover investigations internationally as well. SecureMARC also has a good working relationship with the police and other enforcement agencies.
ROLLING OPTICS: SEEING IS BELIEVING, A NEW GENERATION FIRST LINE SECURITY
Rolling Optics offers the most secure and attractive visual anti-counterfeit solution available. The patented and exceptionally complex technology creates a stunning 3D effect, virtually impossible to replicate. By simply looking at the 3D security labels the consumer will instantly recognize they are buying a genuine product. There is no need for special lighting or reading devices to authenticate the product. After implementing RO solutions, all client brands have seen a sharp decline in counterfeits resulting in protected customers and rapidly increased revenues.
In addition to providing an immediate visual authentication, the brand specific 3D-effects can be combined with a full range of track & trace, serialization and consumer engagement technologies including QR-codes, RFID, NFC etc. Our security solutions primarily come as flexible self-adhesive labels and can easily be applied in most production lines without losing speed or efficiency.
DATASOFTTM CLAP – CONSUMER LOYALTY & AUTHENTICATION PROGRAM, is the product authentication platform that empowers every Consumer to authenticate their purchase by themselves by just scanning a QR Code with any Smart Phone.
DATASOFTTM
CLAP enables every Brand - the much-needed Protection against Counterfeit and Gray market in multiple industries with cost-effective, unit-level identification, authentication, traceability and business intelligence throughout the entire supply chain.
Successfully implemented Anti-Counterfeit / Track & Trace solutions to more than 85 Companies and more than 110 plants
Protects over Billion Products each year for the last 8 years
Empowers every Consumer to authenticate their purchase by themselves at any time and instantly
Configurable for all kind of Promotions, Discounts, Branding Videos, CONSUMER & CONSUMPTION DATA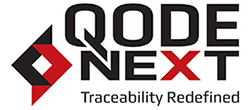 QodeNext is a leading supply chain traceability technology, consulting and service company. We provide a single point of contact for all your traceability needs from technical consulting to implementation to support. We harness the power of Barcode, RFID, Vision, Cognitive Computing, IoT, Predictive Analysis and emerging technologies to enable our clients integrate their supply chains and facilitate end-to-end visibility and connectivity.
QodeNext is the merged entity of Mumbai based Intellicon Private Limited, Bangalore based Essae Technologys Private Limited and Mumbai based Intercode Solutions Private Limited.
With the combined strength of the three organisations and over 75 years of shared experience, we create significant differentiation with the ability to address new customer demands with an unprecedented solution breadth, specialised domain expertise and expansive support network. We are the largest Automatic Data Information Capture Solutions provider in India, with a dedicated team of over 200 employees.
BDO is a leading professional services organisation and are global leaders of the mid–tier, operating in more than 160 countries. The team at BDO in India consists of over 2000 professionals led by more than 170 partners and directors operating out of 12 offices, across 10 key cities. We offer Assurance, Tax, Advisory and Business Services & Outsourcing for both domestic and international clients across a range of industries.
We take pride in offering our service portfolio built on the back of a rich blend of experience and expertise, bringing to fore a work culture that is both client – centric and knowledge driven. We believe in quality underpinning all that we do and our strategic focus on increasingly using technology to deliver our services compliments our vision. Bringing innovative thinking to a digitally evolving market is helping us reinstate and better offer our long standing promise of – delivering quality driven by value and up to date thinking. We endeavor to deliver truly exceptional client service through a tailored solutions approach, while partnering with our employees and clients globally. It is the dedication and commitment to our clients that helps us deliver a distinctively different value proposition. Our wide range of differentiated services, position us as a one – stop solutions platform for meeting diverse client needs.
Chamber of Nigam & Nigam is a New Delhi-based boutique Law Firm with special expertise in the field of Dispute Resolution, Intellectual Property Laws, Commercial Laws, Employment and Labour Laws, Consumer Laws and Laws pertaining to Petroleum and Explosives. The Firm is an amalgamation of experience and knowledge, and boasts of a well qualified, renowned and experienced team.
Specifically, in the field of IP and Anti-counterfeiting, the Firm represents clients from various industries before civil courts in litigation pertaining to Trademark and Copyright infringement, and also provides assistance in seeking criminal remedies against infringers on behalf of its clients.
At SMART you will get one stop solutions for all your security requirement. May it be people, property or your product. We secure it completely.
OUR Services:
Anti-Counterfeiting
Background Verification
Business Intelligence
Manned Guarding
Electronic Surveillance
Parking Management
Event & Executive Protection
Fire Fighting Division
Vision:
To be the only Securers who helps our associates maintain harmonious environment to support and promote inventions innovations along with healthy competition.
Mission: To eliminate counterfeiting globally and to ensure fair righteous trade practices for success able growth.
Sproxil uses mobile technology to combat counterfeiting and increase brand equity with innovative and consumer-focused product protection solution. Our award-winning Mobile Authentication Solution has been deployed by several large companies globally and has helped protect their brand reputation and empowered millions of consumers around the world to make informed purchasing decisions that protect their safety.
The DerisQ Group is a reputed risk management company headquartered in Mumbai. We use proven strategies to design reliable risk management programs tailored to meet the needs of specific individuals, groups, companies, and/or locations. We serve organizations globally.
Our complete security solution includes protection of your intellectual property rights, providing business intelligence, providing trusted man-guarding services, conducting thorough background checks and investigating businesses for any liabilities. Our Fraud Risk Management Services ensure that your company's reputation is always upheld.
To maintain on-ground security, we provide your company with highly trained security personnel equipped to prevent and handle any situation. With our robust and comprehensive security services, you are assured of your business' trusted functioning and in turn, your clients' trust.
Expert risk assessment, hands-on management and trained staff backed up by state-of-the-art technology, risk management software and exceptional customer service is a hallmark of our Group. We take pride in our evaluation & implementation process, as well as our ability to respond to continuously changing needs as they arise.
The Legist, an IP boutique law firm with offices in all metros of India, stands for a steadfast commitment to excellence and ethics in Legal Practices. Founded by experienced and inspired attorneys Kirat Singh and Pramod K Singh, The Legist niche practice area is anti counterfeiting - civil and criminal litigation, Website Track Down Services and Brand Awareness Customs Training to curb cross border counterfeiting in Indian Subcontinent.
nVipani's valUchain™ is designed ground-up to combat rampant counterfeiting, brand erosion, pilferage, stock diversion, illicit trade and supply chain fraud. valUchain™ also showcases nVipani's mastery of the SCM domain, Blockchains, IoT, AI/ML, and micro-services to afford today's businesses new levels of trust, visibility and ROI, like never before.
Inventicon stands for Industries + Events + Ideas + Concepts. Inventicon Business Intelligence is the end result of a decade long effort by the founders in the space of business information. We develop sector focused informational conferences and training workshops. Our conferences revolve around current scenarios and opportunities in the global market place and provide timely opportunities for solution providers to meet their target market and for end users to take back key learning and experiences. Our events act as a point of convergence for senior industry professionals who strive for innovation, strategy and commercial drive. Delegates can expect to hear from industry's best practitioners, get in direct contact with regulators and stimulate high level discussions with peers. The training portfolio is dedicated to developing skill sets around complex workplace and functional issues as they need constant honing. Our in-house training offerings are particularly useful for companies who prefer a customized agenda.
The bespoke events portfolio aims at crisp round table discussions involving a targeted group of end users in a multi-city format. In true sense, we aspire to disseminate critical business intelligence to the rapidly growing corporate and institutional world in the country and not limited to a specific sector.